In recent months Wales has seen an exciting influx of traders innovating and creating new businesses, collaborating and providing something missing in the local food scene. Step in Nana O's, a new venture from Gaz Oakley (aka Avant Garde Vegan), providing plant-based comfort dishes and traditional food staples inspired by his grandmother's home cooking. As lovers of the local food scene and wanting to help independent businesses to flourish, this was the perfect project for us to be involved with.
We started with working on the foundations of the brand, taking the purpose behind the concept and crafting an identity that reflected a timeless feeling for the timeless dishes that were inspired by his Nan, classic, wholesome, welcoming with a sense of nostalgia.
Providing Gaz with both an illustrative logo and complimentary logotype that could be used interchangeably as well as a set of brand palettes and an appropriate selection of type that elevated the nostalgic tone of the brand as a whole. Having a bespoke illustration was an important addition to the brand and we wanted this to accurately and positively portray his Nan.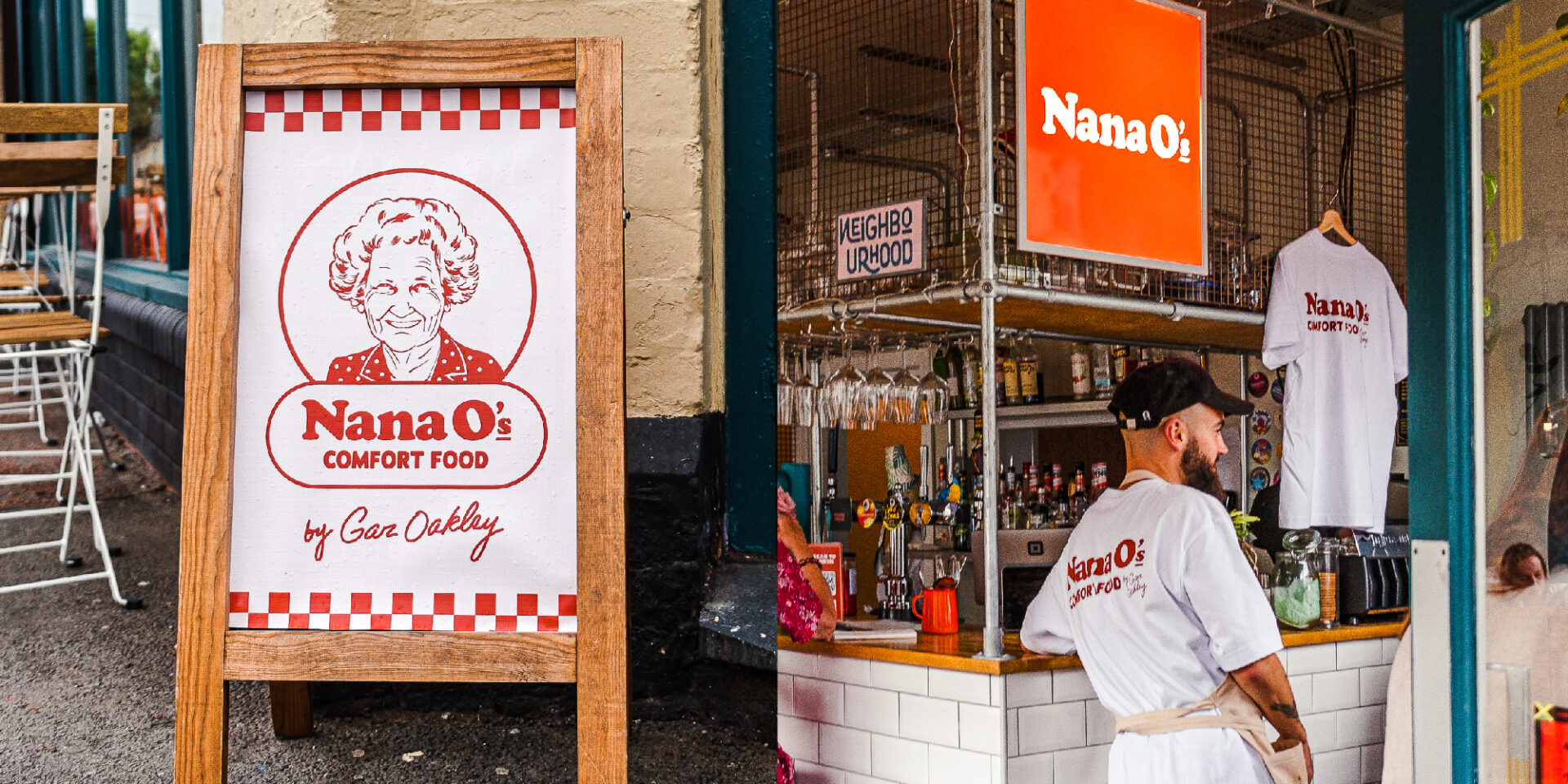 When the pop-up was booked in at Neighbourhood in Cardiff we stepped in to roll out the brand to work in the context of a pop-up restaurant. This included signage, window vinyls, table talkers, menus and a suite of content for socials to promote the event. It was important to approach this in a way where the brand could be picked up and placed into pop-up kitchens around the country, so having a brand that was simple, effective and manageable was an important aspect to keep in mind throughout the project. 
Gaz is someone who provides some of the best vegan recipes around so you can imagine our excitement when we visited for lunch earlier this afternoon. Incredible food in a great venue. A stone's throw away from the city centre, Neighbourhood is quickly becoming one of Cardiff's best street food venues, with an ever changing menu, supporting local suppliers and traders, hosting pop-ups and events. We'd recommend paying a visit if you're in the area, but if you need another reason just take a peek at the food we had on our trip.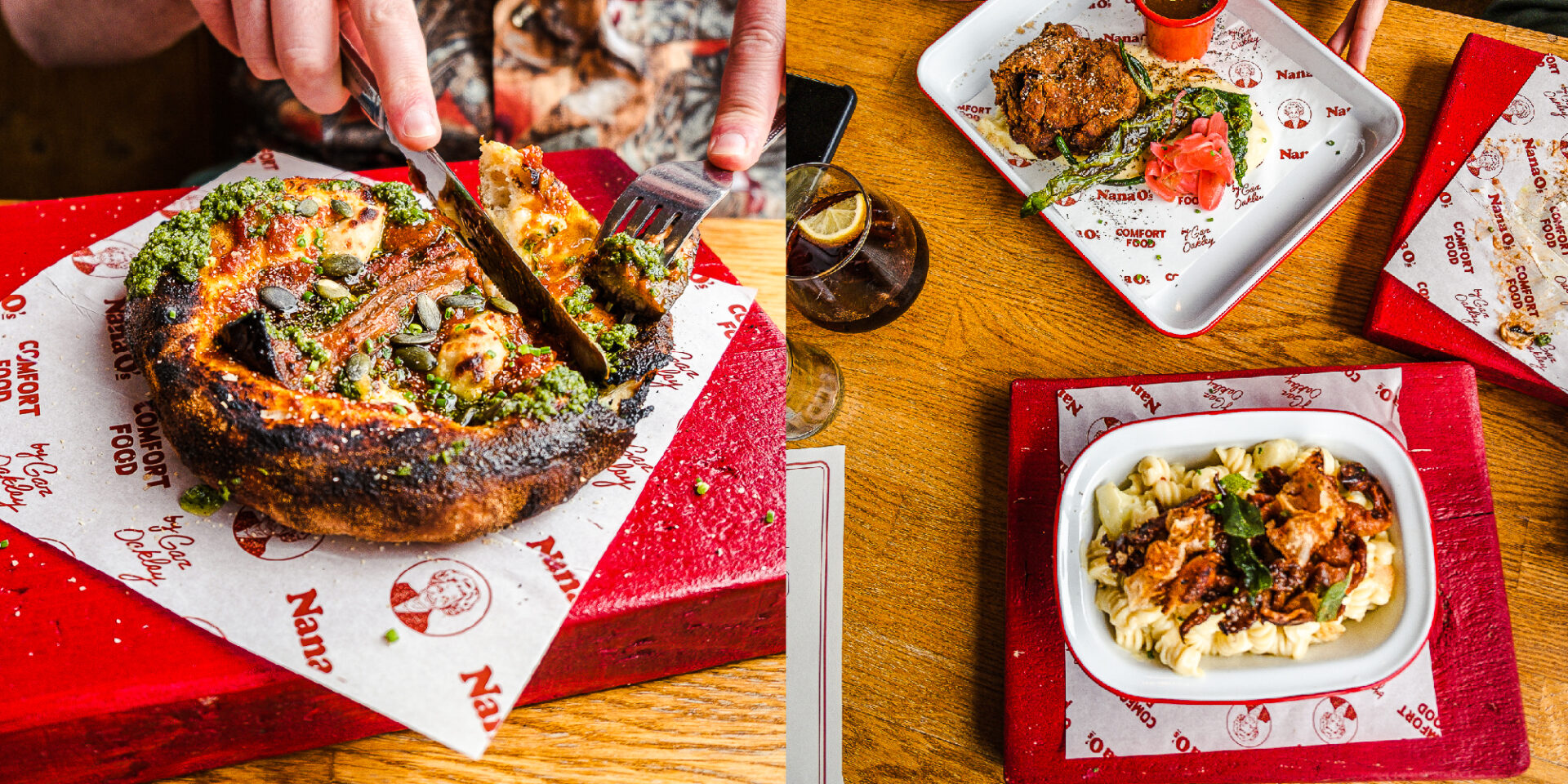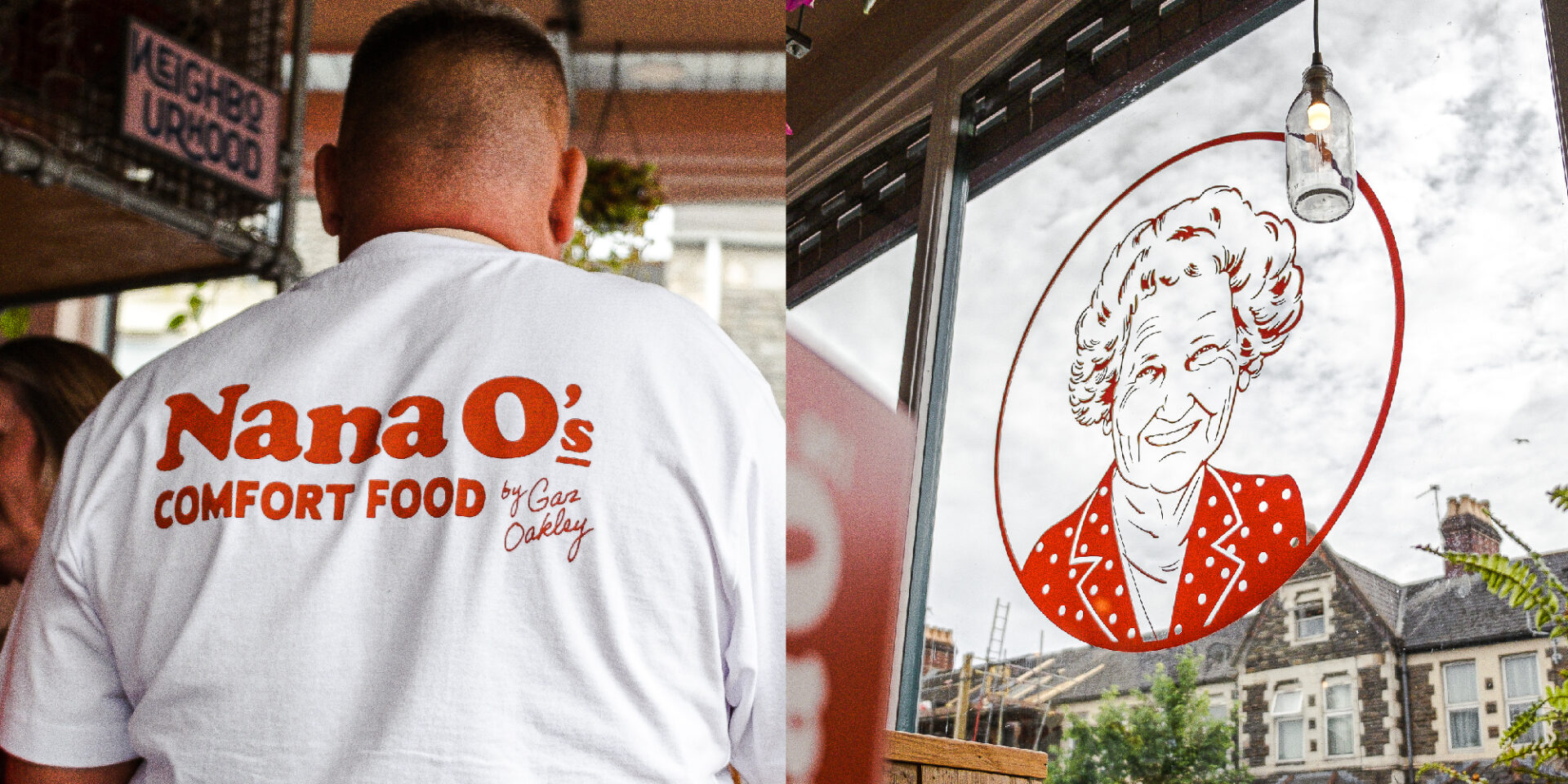 For the full Nana O's experience we all picked something different on the menu. Josh P had the Pizzeta A small but sizeably delicious pizza topped with slow roasted aubergine and Welsh rarebit vegan cheese. Josh C went for the Fried Oyster Shroom, a unique take on a comfort food chicken classic. Meanwhile, I tucked into The Mac, a pulled mushroom's, sticky BBQ topped take on a classic mac and cheese. 
Visit Nana O's pop up at NeighbourHood Kitchen (80 Tudor St, Cardiff CF11 6AL) from 23rd June – 3rd July.
You can book at neighbourhoodkitchen.co.uk/nana-os-booking/